The RainyDayMagazine team spent the past few days relaxing on the Cape. We love going to Provincetown around this time of the year because the tourists are gone, things are quiet, and we can totally unwind. OK...maybe not totally as we had seven laptops amongst the six of us :-)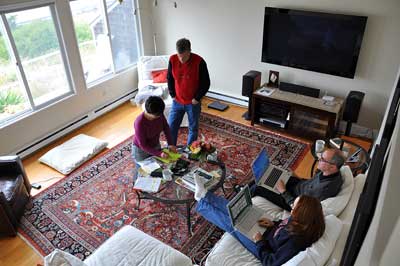 A few of us went down on Friday. Others left Boston on Saturday and got there in time for breakfast. One advantage of driving down early in the morning is the light traffic across the Sagamore Bridge (Note: current bridge repair work--that has reduced the number of lanes to one each way--could add an extra 30-40 minutes to the drive).

Bill and Irfan's place looks out over the marsh, and the weather was wet and rainy for most of the weekend. We brought down the Sigma 80-400mm lens for the FirstUse test because we knew the marsh would be teaming with birds. It appears we were correct. There were about half a dozen grey cranes, a few herons, and a bunch of other birds. It was a target-rich evironment for our first outing with the Sigma lens!


The Sigma 80-400mm lens did pretty well through out its entire zoom range. The Optical Stablization (OS) worked well, but we did notice some odd stuttering of either the shutter or the mirror. It did not appear to affect anything.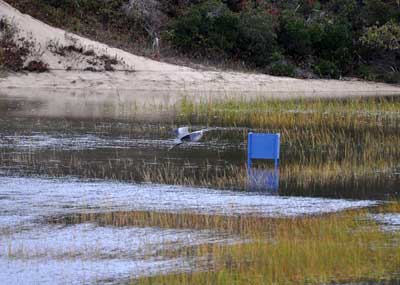 The quality of the images were good for a low-contrast day. We got quite a few reasonable shots from about a hundred yards out, but none of them were pin sharp. We want to see how this lens will perform under optimal conditions. So our next outing would have to be on a much brighter day. [Permalink] - Sigma 80-400mm Zoom FirstUse