The Cuisinart Elite Collection 12-cup food processor was unpacked as soon as it arrived at the RainyDayKitchen. We had to scramble to get the FirstLook photoshoot finished as folks were eager to give it a try. We haven't see such fuss over a piece of kitchen gear since the UPS guy dropped off the Jura Z5.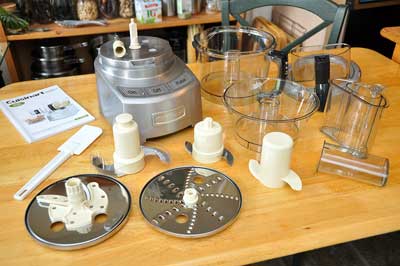 As we noted in the previous article, this Cuisinart food process has a few innovative features. One of them is the bowl-within-a-bowl design. We'll focus on the bowl today and will take a closer look at the other pieces in more detail later.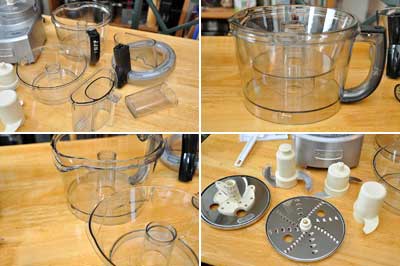 The Elite food processor is really two processors in one. It has a smaller 4-cup chopper as well as a much larger 12-cup unit. The smaller bowl fits inside the larger one and both are covered by the leak-proof lid.

The seal on the underside of the lid is wide and flexible. It is clearly different than the typical flat silicone gasket seal. We took a few close-ups to show some of the details of the membrane. The new multiple-bowl design requires a stem which can change height. Cuisinart solved the problem with an extender which fits over the spindle.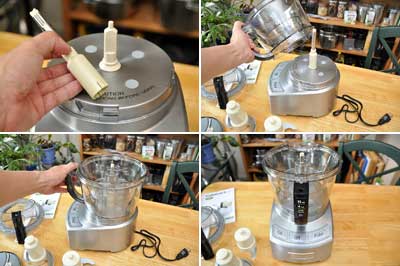 Most food processors are designed to operate only if the both the bowl and the lid are properly positioned. This one is no different. To make things simple, there is only one correct orientation for attaching the working bowl: slide it on, position it slightly left of center, and move it to the center. The working bowl locks with a positive click.

Like the larger working bowl, the smaller bowl can only be positioned one way. There are guides and channels to help properly align the pieces. Lips and strategically molded grips makes lifting easier.

The lid locks into place via two anchor points (back, front). We prefer the hooking the back first and bringing the front down until it clicks into place. However, the front can also be aligned with the bowl's handle and pushed down until it clicks. Squeezing the side of the base will release the catch and free the lid. The feed tube in the lid is extra wide to accommodate large items.

To make working with the smaller bowl easier, the food pusher has a second insert to reduce the size of the opening. A small slide in the back of the pusher locks it in place for use. With all three pieces (bowl, lid, pusher) are properly assembled, the unit is ready for use.
We will take a look at the other parts (blades, base, etc...) in the next installment of this FirstLook series. The closer we examine this Elite Collection Food Processor from Cuisinart, the more impressed we are with the design, attention to details, and quality Cuisinart has put into the product. We can't wait to see it in action! [Permalink] - Cuisinart Elite Food Processor: Bowl FirstLook