Boston is not a very scary place now, but it has not always been so. Like many old cities, Boston has its share of smugglers, pirates, shipwrecks, and ghost stories. The Boston Ghost Cruise brings those stories to life every year around Halloween. RainyDayMagazine joined them on one such trip around Boston Harbor this past Saturday.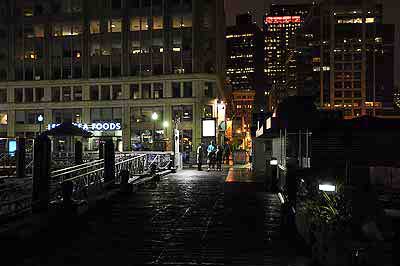 It WAS as dark and stormy night when the RainyDay crew boarded the Ghost Cruise for a two-hour tour. Long Wharf pier was crowded but there was a hint of anticipation in the air. The adults were quietly talking. The children were staying close to their parents, leary of wandering off too far. After all, things such as sea monsters have been reported in the harbor. If you are quick enough, you can catch them out of the corner of your eye!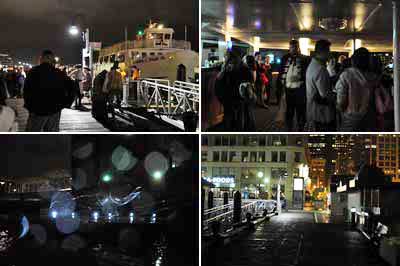 The cruise headed out from the pier around 7:30PM. No one saw us leave. If we didn't come back, would anyone know to look for us? Would we end up being the ghost story told by the next generation of storytellers ??? Fortunately, we managed to survive... this time.

Over the course of the two hour cruise, we heard tales of bloody executions, mysterious cursed ships, gruesome murders, and haunted lighthouses. The professional troupe of storytelling ghosts and ghouls kept everyone's attention, violentely interrupted only by the occasional bloody-curdling scream from an audience member. We'll skip the details so as not to ruin the surprises.

Time passed quickly. Before long, we had made a trip around the harbor, heard some gruesome tales, and were headed back to the pier. The rain had picked up, but the water was oddly calm... enough to allow us to get some shots of the lights of Boston from the ship.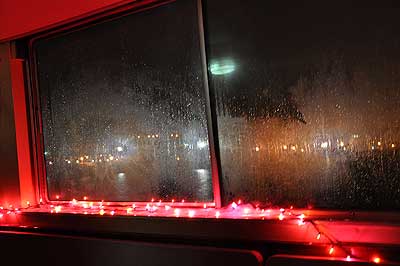 The Boston of old looked quite different than today's. There were more boats on the water, but fewer lights on shore. However, the rocks were probably just as jagged and the water may have been even colder. Boston may be brighter now, but on a dark stormy night, the legends and folklores of old still burns in the imagination of the storytellers on the Boston Ghost Cruise.

On the drive home, we thought about story of the lost father and daughter in a horse-drawn carriage looking for, but never finding, their way back home. When we came upon one particularly dark curve on a road in Watertown, we could have sworn we heard the clopping of hoofs. Just our imagination...yeah, that must have been it.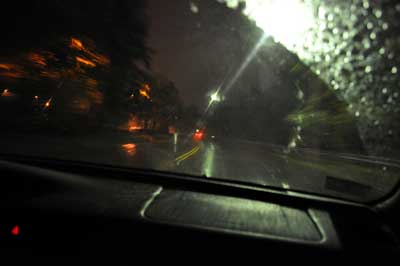 Everyone loves a good scare. Readers who love to hear ghost stories, learn more about Boston's ghoulish past, and have an old-fashioned good time should check out the Boston Ghost Cruise. If you are fortunate, it will be a dark and stormy night...aahhhhh!!! [Permalink] - Boston Ghost Cruise