RainyDayMagazine's content can now be licensed for your print magazine or web site. Please contact us directly here. If you want to see something reviewed, then drop us a note with a link and we'll be happy to take a look.
NOTE: Click here to read more about our approach to product reviews.
The Nor'easter made quite a mess over the weekend. Many are still feeling its effects today. Fortunately for Boston, the storm only dropped a few inches of the heavy white stuff. Even so, limbs and branches were down everywhere. We went for a hike around the Arnorld Arboretum to see how the trees there fared.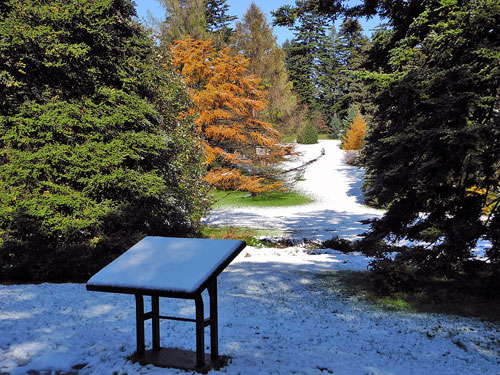 The Arnold Arboretum is 250 acres of managed greenery in the city of Boston. The responsibility of maintaining the grounds is shared by Harvard University and the City of Boston. We got there around 10AM and most of the snow were already off the leaves. For the most part, the trees... [more] - First Snow
The weather this weekend could not have been more perfect for a road trip. We took full advantage of it and drove 100 miles out to Northamptom for the Paradise City Art Festival. We have been to the Marlboro PCAF a number of times and so thought we knew what to expect. We were happily mistaken.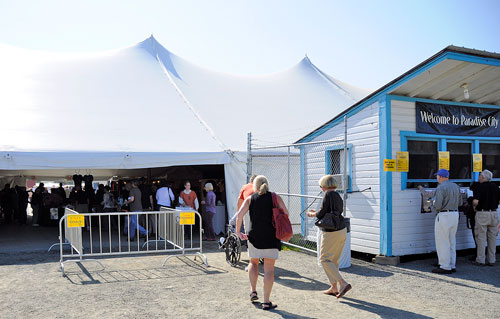 What we found was a show that was about three times as large. As expected, the show was extremely well organized (free parking, fast moving ticket lines, etc...) and the vendors were all very... [more] - Paradise City Northampton
Normally, we head up to Maine for Columbus Day, but this year we'll be in town for the holiday weekend. Instead, we are going to take a drive out the Northampton and check out the Paradise City Arts Festival.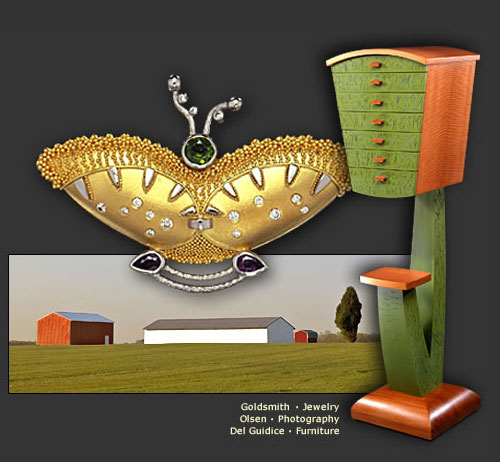 We have been to a few PCAFs (2004. 2006, Spring 2010, Winter 2010) over the years, but they have all been the Marlboro show. The buzz is that the Northampton one is bigger. Our friend Mark Del Guidice will be exhibiting at the show. We have not seen Mark recently and are eager to check out his new work. If you have time this weekend and are looking for something interesting to do, go check out the Paradise Arts Festival. It should be a great show! [Permalink] - Paradise City Fall 2011
The eruption of Mount Vesuvious on August 24, AD 79 must have been terrifying to the inhabitants of Pompeii. In less than a day, this thriving Roman city of 20,000 was buried by over 15 feet of volcanic ash. Everything, and everyone who did not escape, lay entombed for 1,700 years until scientists and archaeologists began uncovering it in 1860. The initial excavation took 15 years and gave the world a glimpse of what daily life was like 2,000 years ago.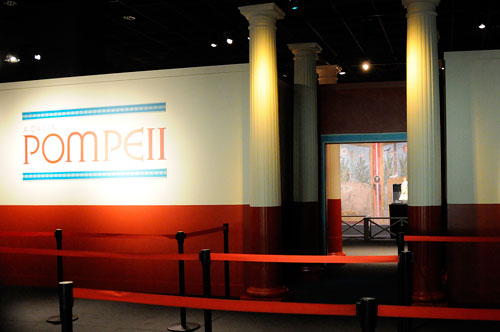 Starting this weekend, Bostonians will have an opportunity to step back in time and take a first-hand look thanks to the Museum Of Science's new exhibit A Day In Pompeii. This amazing exhibition is presented in partnership with Soprintendenza Speciale per i Beni Archeologici di Napoli e Pompei (SANP). RainyDayMagazine got a FirstLook at it last night and... [more] - MOS: A Day In Pompeii
We were out at Brimfield in July for their giant antique show. We planned to do the same this past Thursday for the start of the Fall show, but the torrential rain changed our plans. The skies finally cleared on Saturday. We left Boston before 8 AM, had breakfast at a diner on the edge of town, and made it to the show before the crowd.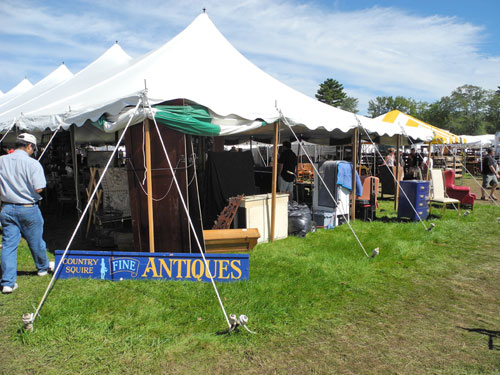 All the rain definitely had an impact, both on the number of vendors and the overall attendance at the show. Many parts of the fields were still soggy and walking around was sloppy at times. Fortunately, the weather for antiquing was perfect on Saturday (sunny, cool, dry) and attendess did start to show around lunch time. One of the benefits of a smaller crowd was... [more] - Brimfield Antique Show: Vintage Tech
Perspective: One can get it when one looks at things from a new or different vantage point. Having the proper perspective is important in contemplating everyday things. It is also helpful when thinking about somewhat bigger things.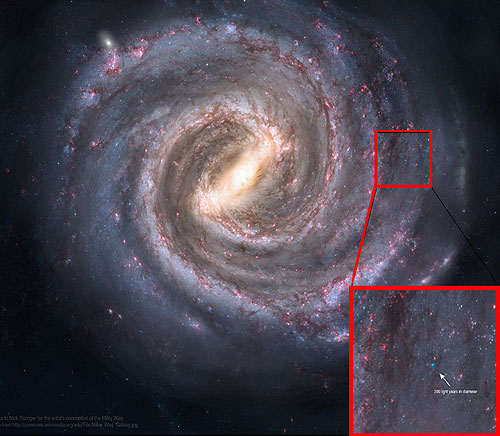 We StumbleUpon-ed the image above while "working." The image is of a spiral galaxy similar in size to the Milky Way galaxy in which our solar system resides. What really put things into perspective for us was what it was illustrating. Our own Milky Way galaxy is about... [more] - Two Hundred Light Years
When we set out for our Vermont Summer Outing, we had no idea of the beauty of the state. Our base was the Inn at Sawmill Farm in West Dover. From there we ventured up Route 100 then onto Route 30 around the edge of the Green Mountains to Manchester. Our goal was to then go down 7 or 7A and loop back to the Inn via Route 9.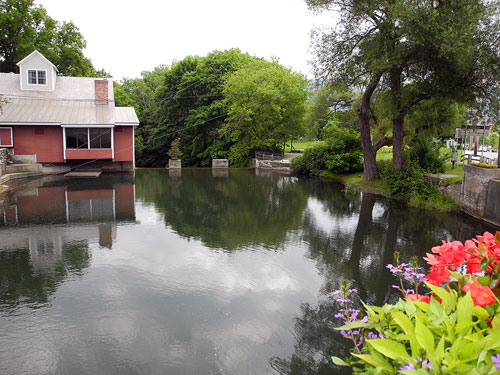 Shopping was the goal of the day and we found plenty of places to stop, wander around, and into which to poke our heads. We knew we would find a lot of antique stores (and we did), but we were impressed with the amount of high-end crafts (glass workers, furniture makers, sculptors, artists) we came across on the trip. In retrospect, it should not have been surprising as... [more] - Vermont: The Shopping
Our Vermont Outing to The Inn at Sawmill Farm was in mid-July, but the pleasant memories from our stay are still with us. It may be because we stayed in the Wood Shed. Now don't misinterpret, it is definitely not what you think. The Wood Shed is a charming, lovely, and quiet cottage in the back.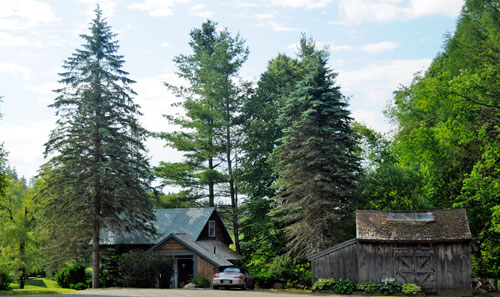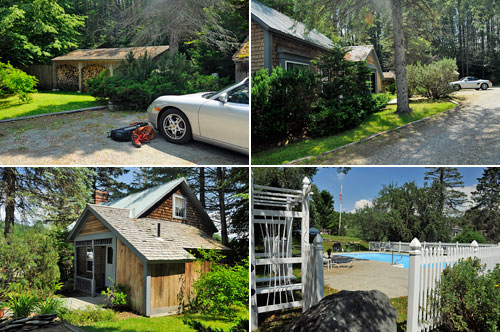 The Wood Shed is not actually a wood shed. It is next to the wood shed, but it is also right next to the outdoor pool :-) The cottage is the closest unit to the main Inn, but still far enough back to feel secluded. It is surrounded by towering pines and has a back deck which looks out onto a... [more] - Vermont: The Wood Shed
We go on several outings each year. As there are so many great places within driving distance of Boston we are spoiled for choice. The goals of the outings are: to get out of the office; try out some gear InTheWild; maybe make some new friends. We decided this year's Summer Outing would be to the Green Mountains of Vermont. Even we don't think about Vermont in the Summer ("Wait, don't you need snow to go to Vermont?") so we thought it would be good to see it in the "off" season.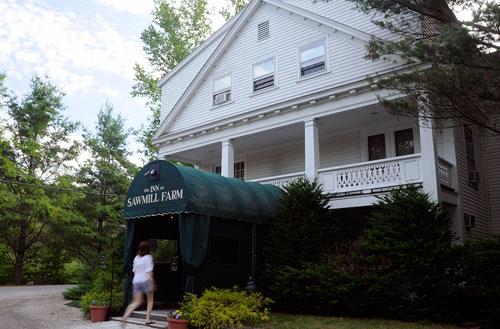 After a bit of research, the interns found a great little inn called The Inn at Sawmill Farm at the edge of the Green Mountains and it turned out to be the perfect base camp for our lower Vermont excursion. It took us a little over three hours to get there (including a stop for an awesome lunch) from Boston. The Inn at Sawmill Farm is a beautiful country inn that is just a few miles from Mount Snow. There are 21 uniquely decorated rooms (12 in the farm house, remainders in the... [more] - Vermont: Inn at Sawmill Farm
We have been fans of the SoWa Open Market since we first attended their Holiday show back in 2004. It has been great to watch them grow and get better year over year. This year the organizers of SoWa has added a few more offerings (Farmers Market, Food Trucks) in addition to the collection of "not your average" vendors.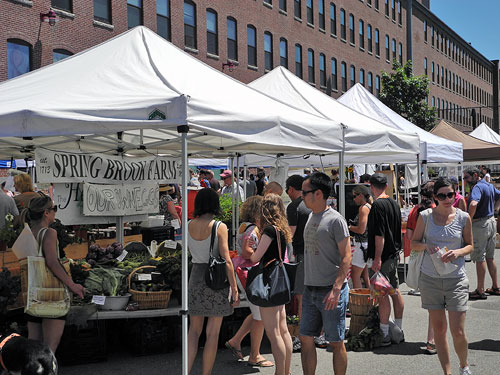 The SoWa Farmers Market offers a variety of locally grown produce and specialty food products from the New England area. The addition of these vendors not only create a more enjoyable shopping experience, they also contribute to a... [more]- SoWa Open Market
The Greenway Open Market is a new weekly open-air arts and crafts market along the new and lovely Rose Kennedy Greenway in Boston (which used to be a double-decker major highway until they dismanteled it and put it underground). This past Saturday was opening day, and it could not have been a more beautiful one.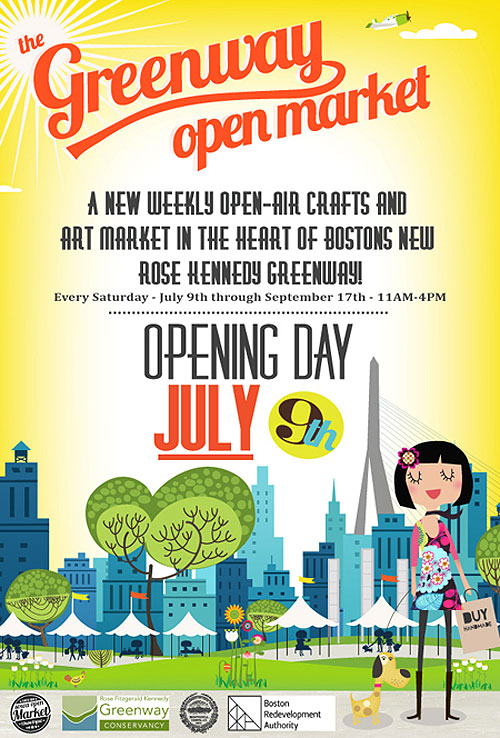 We have not been to the Greenway area in a while and were pleasantly surprised by what has been done. It is an awesome series of public spaces connected by parks, walkways, and gardens. Every Saturday during the Summer there will be vendors all along the Wharf District Parks... [more]- Greenway Open Market
We wanted to see the Fourth of July fireworks on the Esplanade, but the thought of fighting 800,000 people for a spot along the Charles River was not at all appealing. Just considering the idea required way more effort than we were willing to muster up. However, opportunities to take photos of fireworks are hard to pass up. What we needed was to find an "undiscovered" spot that was close enough to the city, accessible by car, and preferablely with a view of Boston skyline to serve as a backdrop for the show.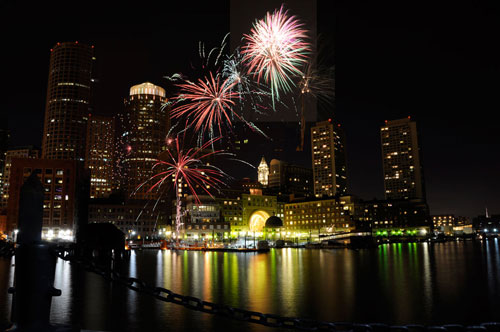 After a bit of discussion, we decided to head down to the HarborWalk at Fan Pier. The one problem with the location is the buildings. It meant we would only see fireworks which would be high in the sky. However, that vantage point has a great view of Rowes Wharf from across the water, the Custom House clock tower would be visible in the distance, and the fireworks would look... [more]- Shooting Fireworks
A bright red cardinal has been visiting the bird feeder in the RainyDayGarden these past few weeks. For days, we have been stalking this elusive visitor, but despite our efforts we came up empty.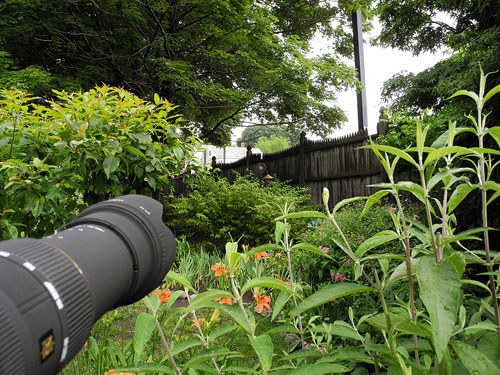 One would think it should be easy to get a photo of the cardinal: set up the camera, autofocus on the feeder, wait for the visitor. We could hear it singing up in the tree. Occasionally, it would do a fly-over of the feeder. However, it almost seemed like it knew what we were trying to do and didn't want any part of it. Maybe it was because of the interns, maybe it was... [more]- Backyard Adventures
If the rock outcroppings in the photo below don't look natural it is because they were man-made. The formations are the result of over two hundred years of granite quarrying for stone used to build everything from the cornerstones of banks to the Bunker Hill Monument. The Quincy granite quarries are amongst the oldest in the country. They began in the 1700's, ceased operation in the 1960's, was purchased by the MDC in the 1980s, and are now managed as part of the Blue Hills Reservation.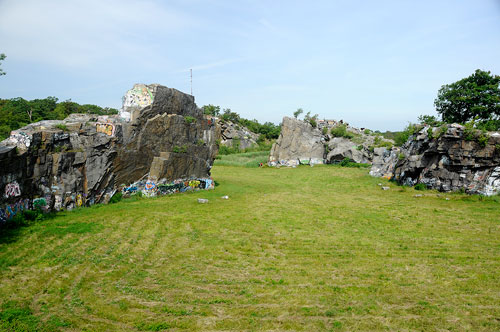 After the quarries closed in the 1960s, they became filled with water and were popular with the locals for swimming, diving, and rock climbing. Its popularity was a struggle for the police as public safety was a constant issue. Numerous attempts, none of them successful, were made to discourage the more dangerous practices such as cliff diving. Some of them (floating old telephone poles) actually... [more]- Quincy Quarries Reservation
Last year (almost to the day) we went with our bird watching /photographers friends Candy and Andy to a spit of rock to get a look at the heron rookery at Manchester-by-the-Sea. The camera gear we took with us last year was adequate for the outing, but the D90 body/Sigma lens combo was pushing the limits of the TrekPod from a stability perspective. Since we knew we would not have to trek very far with a tripod, we took a beefier unit with us this time. In the year since we had been out there, we had acquired a slightly bigger Sigma lens. It seemed appropriate to bring it and see how it would perform under similar conditions.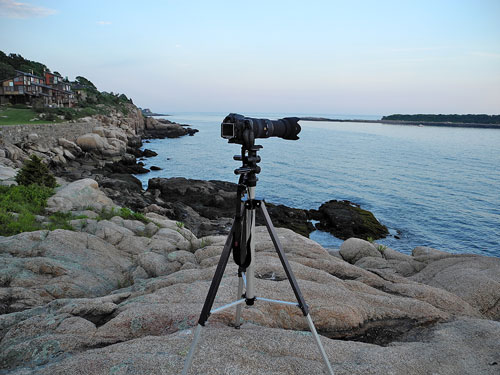 Bringing the bigger tripod was definitely the right decision. Even though the terrain was uneven, we were able to set up the rig and had confidence that it wouldn't tip over. The older 80-400mm Sigma lens had built-in optical stablization (OS), but our newer 50-500mm lens did not. However, since Sigma recommends switching off the OS feature when the lens is mounted on a tripod, not having the OS capability did not hamper us in any way. In fact, when we... [more]- Sigma Zoom: Manchester By The Sea
We don't know what others call Wollaston Beach, but around the office we refer to it as the "Cape Cod of the South Shore." Wollaston Beach is a 3-mile long stretch of sand in Quincy. It is only a few miles outside of Boston, but has a vibe all its own. We can get to it in less than twenty minutes if the traffic is light. When we don't want to fight the traffic to the Cape, but want a bit of the flavor, that is where we go.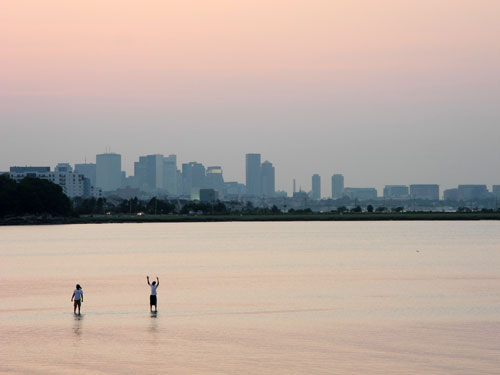 One of the great things about Wollaston Beach is that it is pretty low key. There is a boardwalk that edges the beach for a few miles. Off the boardwalk are a few local yacht clubs. Sprinkled along the other side of the boardwalk are... [more]- Wollaston Beach: Sunset
The 90º heat in Boston finally broke yesterday and it did it in dramatic fashion. Around 4PM in the afteroon, clouds started to form overhead. In the span of less than thirty minutes, the sky got dark, the wind picked up, and flashes of lightning streaked across the sky. It had a kind of "wrath of God" feel to it all. Which immediately led to the thought..."Cool! Thunderclouds! Wonder if we'll need a polarizer?"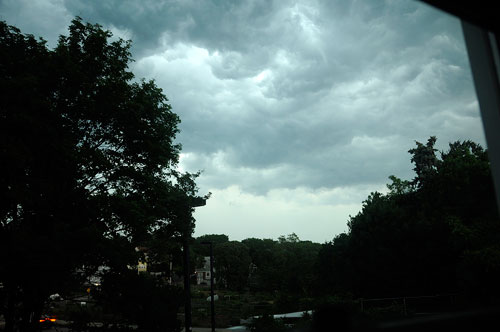 We had considered setting things up to see if we could capture some of the lightning strikes, but decided it was probably prudent to not bring too much gear out as the situation could get really wet really fast. Shooting with the D90/18-200mm with VR active, we took a series of... [more]- Thunderclouds
To some fly-fishing is a sport; to others it'is a way of life. To the folks at Orvis it is a passion. Founded by Charles F. Orvis in Manchester, Vermont in 1856, The Orvis Company specializes in fine quality fly-fishing tackle, outdoor clothing, and sporting arms. As the country's oldest mail-order company, Orvis pre-dates Sears and is the oldest fishing rod manufacturer in the world. When some of us expressed an interest in learning more about fly-fishing, we could think of no better place to start than at our local Orvis store. The basic equipment for fly fishing is pretty simple (rod, reel, line, flies), but the variety of these components can be dizzying. Fortunately for us, the folks at Orvis are experts and were happy to help us sort it out.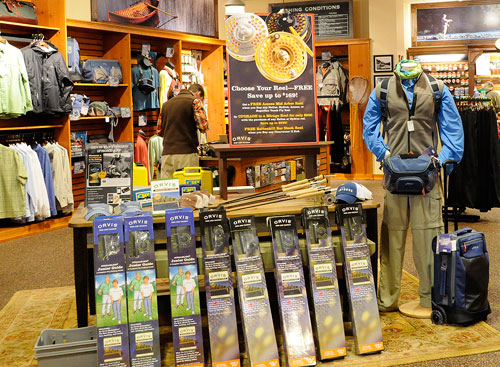 For folks who are just getting started, Orvis can get them into the action with a complete kit for less than $200. This is probably a great way to go for anyone who wants to get out on the water the same day. For those of us who like to look at all the gear and ask a ton of questions before deciding, the process can take a little longer :-) The folks at Orvis were very low-key about it. They assisted when asked and left us alone when we just wanted to wander. We spent the morning... [more]- Orvis:Fly Fishing
We here at RainyDayMagazine are fascinated by dinosaurs. While decendents of dinosaurs are all around us (birds, reptiles, etc...) none of them are of the size of the ones which roamed the Earth eons ago. Dinosaurs bones have been discovered all around the world. Petroglyphs made by American Indians may have depicted these creatures. Records of "dragon" bones found in Wucheng Sichuan date as far back as 2,000 years ago. As to the term "dinosaur" or "terrible lizard," it was the British scientist Richard Owen who coined it in 1842. What scientists know about these creatures is constantly being revised as new discoveries and technologies are brought to bear on the study of these fossils. CT scans, computer simulations, and biomechanically accurate modeling have enabled paleontologists to form and test new theories about these mysterious giants.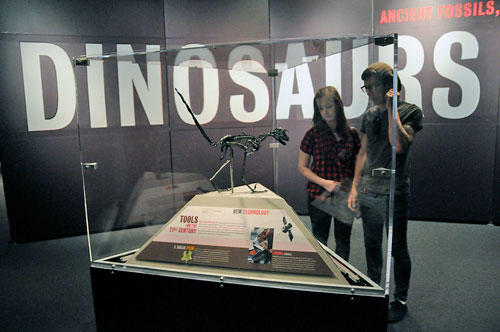 This weekend, the Museum Of Science (MOS) unveiled a new temporary exhibit, Dinosaurs: Ancient Fossils, New Discoveries, that showcases some of these latest findings. "People of all ages will be captivated as they walk back millions of years to discover how science and technology are revolutionizing what we know about dinosaurs, how they looked, and how they behaved," says Paul Fontaine, MOS vice president of education." This amazing exhibit combines major fossil finds, casts, and computer animations with striking... [more]- Dinosaurs: Ancient Fossils, New Discoveries
We started the Memorial Day weekend by heading down to Cape like everyone else. Unlike a lot of folks, we started our trip early on Friday and managed to escape the crushing 3PM "parking lot" scene out of Boston. Our drive was top-down, leisurely, and, with Lady GaGa's latest album (only $.99 on Amazon!) on the iPod to help pass the time, quite quick. Our destination for the day was Falmouth, both because we wanted to visit Woods Hole and because there was an all-you-can-eat BBQ buffet dinner at the Coonamessett Farm in East Falmouth. We are not big people, but we are big eaters and we WILL go where the eating is good.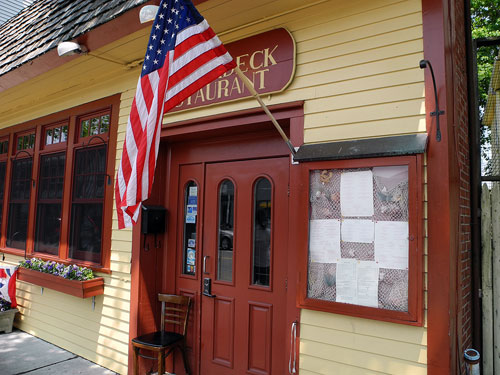 One of us had skipped breakfast and as we had made no stops on our drive down, we arrived in Falmouth ready for lunch. We took a quick stoll down Main Street to scope out the scene and decided on the Quaterdeck Restaurant. It looked like a place where the locals would go for lunch. The place was designed using salvaged wood from local boatyards to create the feeling of... [more]- Memorial Day: Falmouth MA
Every few years we make the drive from Boston to the giant, outdoor, practically the whole town, antique show out in Brimfield. We go, not because we are big antiquers, but because we love the idea of poking around in other people's attics.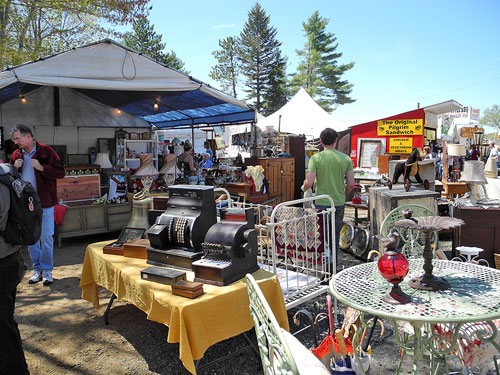 The awesome thing about the Brimfield Antique Show is its hallmark organized chaos. We have been to the show a few times and have realized that long-time vendors are situated in approximately the same location year after year. Other than that, it is just one big jumbo. If you are looking for something specific, somebody at this show probably has it, but... [more]- Brimfield Antique Show
This is the final installment of the 2011 NEAF Conference write-ups. It was our first time attending the Expo and it was excellent. We got to meet and chat with like-minded folks, listened to some interesting talks, and had plenty of hands-on time with all kinds of equipment. In this last post, we thought we would cover a few of the more unusual things we saw at the show.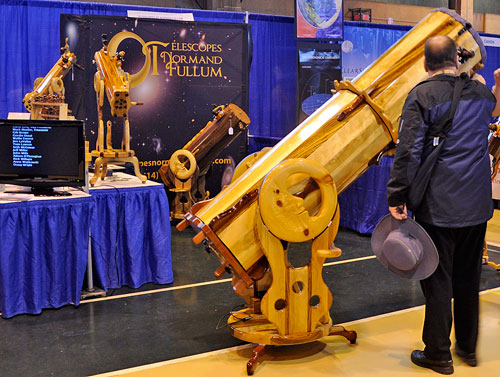 We first came across Fullum-built telescopes last Summer at the World Science Festival om NYC, and were happy to come across them again at NEAF. By combining world class hand-made optics with... [more]- NEAF 2011: Wrap up
Not all astronomy has to be done at night. Some of the most interesting stuff happens during the day. The downside is there is really only one thing to look at during the day, the Sun. Of course, just because there is only one thing to see does not mean it will be boring. The Sun is an amazing to look at and utterly fascinating object to study.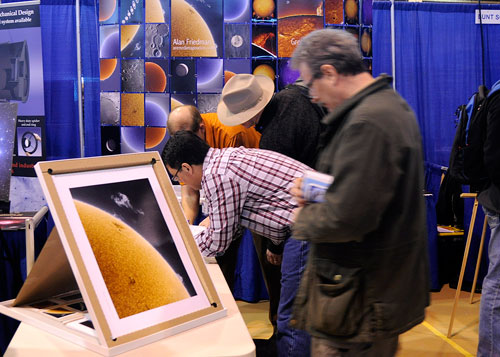 Solar activities are not just visual curiosities; they can have immediate, direct, and substantial impact here on Earth. In fact, NASA is devoting a lot of resources (Solar Dynamic Observatory, Solar and Heliospheric Observatory, Hinode) to monitoring and reporting on what is happening with our Sun. While not as popular as night astronomy, amateurs are increasingly... [more]- NEAF 2011: Solar Party
Astronomy may be the most accessible of the scientific disciplines to the general public. All that is really needed is a clear night, a comfortable chair, and a pair of binoculars. Of course, that does not mean a little gear wouldn't add to the enjoyment of looking up at the night sky. Every year those who have been bitten by the astronomy bug gather at the Northeast Astronomy Forum (NEAF) and Telescope Show to look at gear, share stories, and to generally have a great time.

NEAF and the Telescope Show is presented by the Rockland Astronomy Club of Suffern NY, and is the biggest telescope show in the world. We decided to drive down from Boston to see it for ourselves. The two-day event featured world-renowned speakers, workshops, special events, and over... [more]- NEAF 2011
We just got back from NYC after spending a few days at the NYIAS. It was a blast. We sat in every exotic car we could, played with the knobs, and imagined what it would feel like driving them on an open road. The press preview started on Wednesday and the show officially opened to the public today. As with any show of this magnitude, there is something for everybody: sports cars, fuel-efficient hybrids, trucks with built-in gun racks, concept cars, and some which defies description.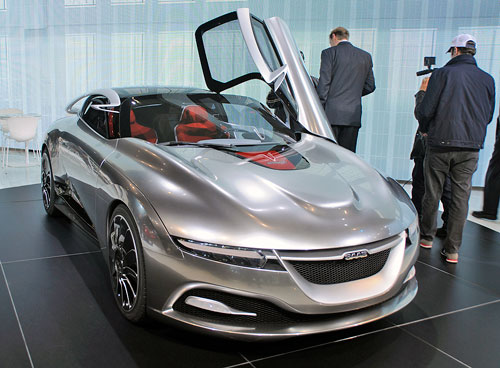 As always, our favorite car from the show were the concept cars. Concept cars are the manufacturers' way of showing off to each other. The majority of the concept cars (Porsche Boxster being one of the rare exceptions) never make it into production, but they serve as a showcase for... [more]- NYIAS: Opening Day
Porsche is the reason we go to the NYIAS whenever we can. This year, visitors to Porsche's booth will get a close-up view of the Black Edition of the Boxster S. There will only be 987 of these specially outfitted vehicles. Each will be numbered and labeled.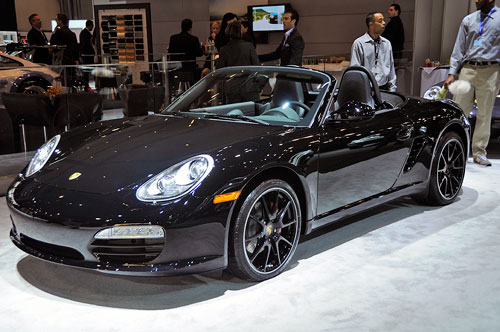 Boxster owners will immediately notice the subtle difference: black instrument dials and shifter, black rear side intake grills, embossed logo on the convertible roof, black twin tailpipes, body-matching... [more]- NYIAS: Porsche Black Edition
We are spending a few days here in NYC for the NYIAS. If you are interested in the basic coverage, there are dozens of major networks, mainstream press, and folks from the usual car-focused publications to tell you all about it. Our plan at the 2011 NYIAS was to find the unusual or extraordinary.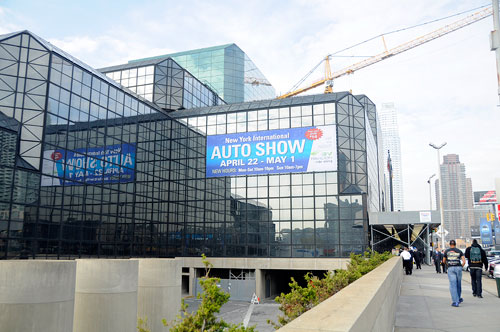 Of course, like most plans, it went out the window once put into action. When we arrived at the show, we saw a long row of Jaguars parked out front. We soon discovered that fifty years ago, the New York Auto Show played host to the launch of an automotive classic: the Jaguar E-Type - or XKE as it was known in America. If any country took the E-Type to its heart, it was the... [more]- NYIAS: Jaguar
The Emerald Necklace is one of Boston's treasures. This park system ringing parts of Boston was envisioned and created by Fredrick Law Olmsted (1822-1903) over a hundred years ago. Olmsted, as many know, was the designer of NYC's Central Park. While Central Park is a chunk in the middle of Manhattan, the Emerald Necklace is woven into the flow and rhythm of the city of Boston. Parts of the Emerald Necklace parallel some of the busiest sections of Boston, but others make you feel that you are nowhere near a city.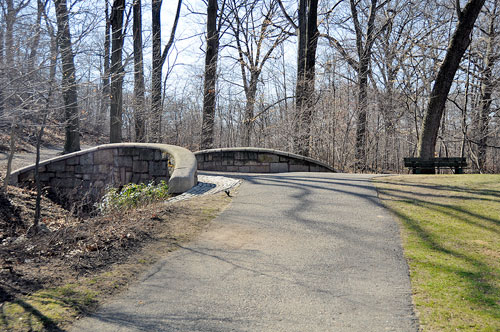 The Necklace runs for quite a distance. The complete system is over seven miles long from end to end and covers over 1,100 acres. To get a sense of the full Emerald Necklace, download this 31"x17" map of the entire park. There are busy spots (Public Garden, Jamaica Pond, Fens) and quiet sections (connecting paths, Arnold Arboretum, Riverway). Of course, when we say "quiet," we mean city-quiet where you may see a person every minute or two. Still, quiet enough... [more]- Emerald Necklace
Born in 1941 in Tacoma, WA, Dale Chihuly was introduced to glass while studying interior design a the University of Washington. Chihuly continued his studies at RISD, where he later established the glass program and taught for over a decade. Over the years Chihuly has worked with hundreds of museums worldwide. On April 10th, Bostonians will get a spectacular view of Chihuly's work at the newest exhibit Chihuly: Through the Looking Glass at the MFA.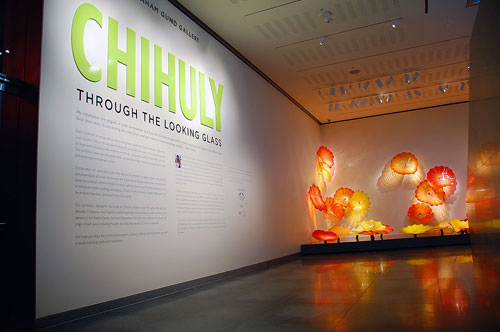 The MFA exhibit features 12 breath-taking installations in the new wing. They are in the Shapiro Family Courtyard, the surrounding gardens, and in the Ann and Graham Gund Gallery downstairs. Stepping down to the exhibit, visitors are greeted by the Persian Wall, a welcoming collection of flower-like glass shapes in orange, yellows, and reds. Immediately inside the gallery is... [more]- MFA: Chihuly
Spring is in the air. The temperature in Boston has been in the mid-50s and may even break 60º this weekend. The giant piles of snow from the innumerable Winter storms have disappeared. We spotted the first crocus bloom in the RainyDayGarden yesterday. While Spring in New England is generally mild, for our friends in the mid-west it marks the start of tornado season. "Tornado alley" stretches from Texas to Nebraska, and every season brings anxiety, danger, and destruction.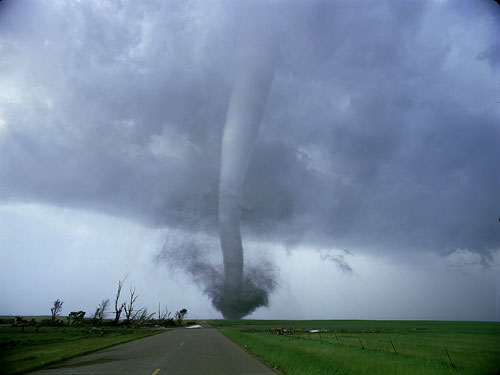 What, exactly, is a tornado? One of nature's most violent storms, tornadoes are fast-spinning columns of air that extend from the base of a thunderstorm down to the ground, with wind speeds up to 300 miles per hour. They can appear suddenly and without warning. With paths in excess of... [more]- MOS: Tornado Alley
We were at the Chestnut Hill Mall Apple Store for the iPad2 launch last Friday. The iPad2 went on sale at 5PM and by 6:30PM they had sold out of all versions. When Apple made their iPad2 announcement on March 2nd, we predicted that it would be another "home run." There were some who were not so certain, but this weekend's iPad2 sale figures will like prove them wrong. To us, the interesting part of all this is not that Apple has another hit on its hands (that much was obvious), but how Apple continues to create the kind of opening day wait-in-line buying fervor (Burlington, Boston) that makes every other company green with envy.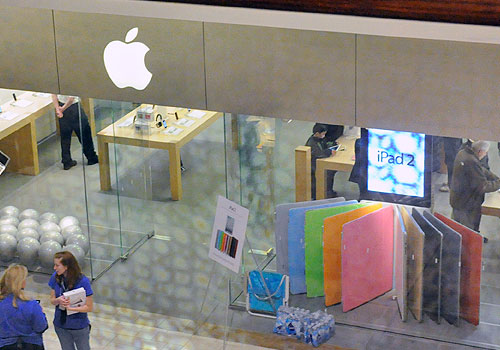 Sure, insanely great products help. However, if one compares the specs (as Apple detractors often do), they are sometimes better, but often times they are less spectacular than their competitors. Maybe they put something in the water or maybe they have a deep understanding of the... [more]- Buyology
If you love trying new restaurants but also like to live within your means, you have undoubtedly have heard of Groupon. We have been a member for several years and can enthusiastically recommend it. Groupon is free to join, there are no obligations to buy, and the offers come to you daily. Best of all, the deals are fantastic and are a win-win for everybody (merchants, customers, and Groupon). It is an absolutely hassle-free way to try out new restaurants, services, and other local offerings for cheap less.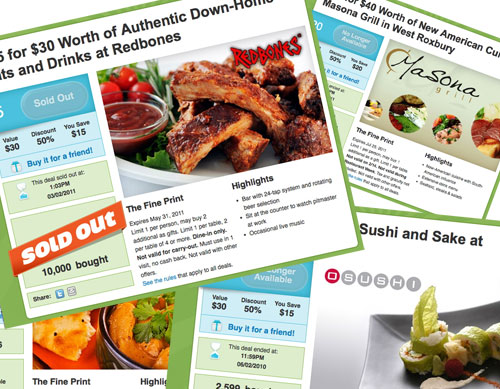 Today, we will talk briefly about two of our recent Groupon excursions. The first is an outing to Osushi, a sushi restaurant located in Boston's Back Bay. We have lived in Boston for over twenty years and thought we had been to... [more]- Groupon Excursions
The more we recycle, the less demand we put on our environment. Scrap metal has been one of the biggest exports out of North America in recent years, mainly because of the increase in demand for base metals (it's far less expensive to recycle metal than it is to create from new). Scrap copper prices are an indicator of the general rise in scrap prices: current pricing is around $3.90/pound, in 2006 it was around $2.80/pound. The price of commodities are continuing to go up and the demand from the rest of the world is not showing any signs of slowing down.
Run intelligently, a recycling business can be quite profitable. The key is to be able to accurately grade the incoming materials so they can be properly sorted and processed. The Olympus Innov-X XRF Delta we looked at yesterday is the perfect tool for the... [more]- Delta at the scrap yard
For the past year, the Museum of Science has been busy renovating the Hayden Planetarium. This Sunday, the Planetarium will reopen it doors and unveil to the public the most technologically advanced digital theater in New England. The yearlong $9 million renovation was funded through private donations and the Charles Hayden Foundation. The RainyDayMagazine crew was on hand for the preview of both the new theater and a new original astronomy show, Undiscovered Worlds: The Search Beyond Our Sun, last night.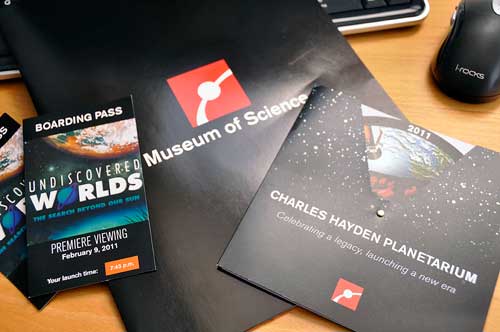 In the center of the newly renovated dome-shaped, 209 seat, theater is the state-of-the-art Zeiss StarMaster projector. Supporting the Zeiss StarMaster are immersive full-dome video projectors and an upgraded audio system. The video projectors are the Sony SXRD 4K Digital units. They have a resolution that is 4x higher than the HDTV screen in most homes. Besides flying viewers around the universe, the ultra-HD projection and animation system can be used to... [more]- Hayden Planetarium FirstLook
The stars have fascinated all who has looked up at them on a clear night. Those who love them are constantly trying to find ways to enjoy them whenever they can. We looked at one of those ways with the iOptron LiveStar earlier in the month.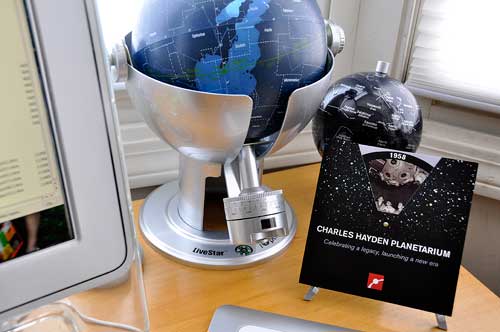 For the past fifty years, the Charles Hayden Planetarium at the Museum of Science has been the place to go learn about the stars, the planets, and all things celestrial. Here is a quick timeline of... [more]- Museum Of Science Planetarium
Jan 28, 2011-

Snow Day at the Arboretum

...
Yesterday was too nice to spend inside so we packed some camera gear in our Kata sling and trekked on over to the Arnold Arboretum. We love the Arnold Arboretum. It is an amazing resource and a treasure for the city of Boston.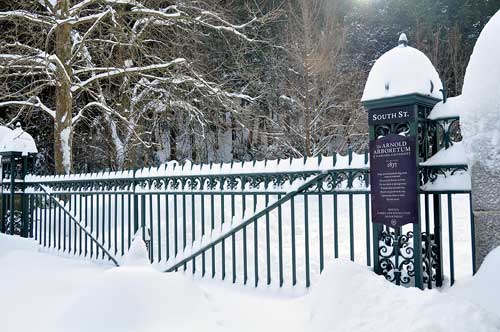 The last time we were at the Arboretum in the winter was during the December storm in 2008. It was practically white-out conditions, but people were nevertheless walking about with their dogs. This time around the storm had already passed, the sky was blue, and a foot of... [more]- Snow Day at the Arboretum