The Jura Impressa Z5 has been a work-horse around here for years. A few months ago, it started to throw an "Error 8" after making one cup of espresso. We would let it rest for a few hours, then make ourselves another cup. Clearly this was not an optimal situation.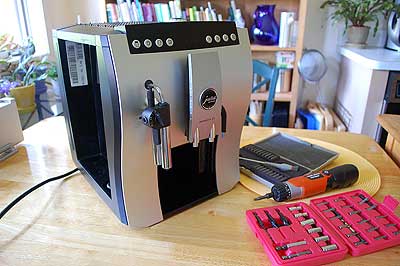 We decided to see what we could do about the problem. What should have been a one-day project turned into something quite a bit longer. The first problem was the two oval "security" screws used in securing the side panel. We could have tried to locate the proper tool, but decided to drill out and replace the screws instead.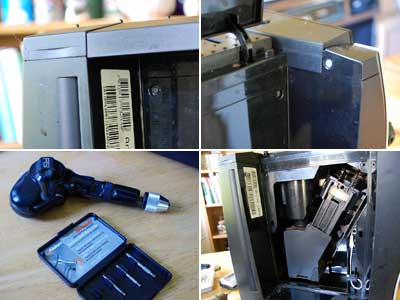 With the side panel removed, the brewing unit was easily accessible. Three screws (two upper, one lower) held the brew unit in place. We noted that they were not all the same; the bottom screw was different than the top two.

Even after the three screws had been removed, the brew unit was still connected to the housing via a hose. The hose is held in place by a retaining pin. The pin must be pulled out before attempting to disconnect the hose.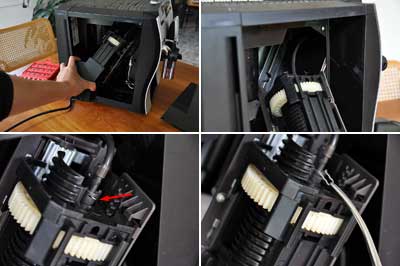 With the hose disconnected, the brew unit may now be extracted from the housing. The gears were made mostly of plastic, but are very rugged. None of it appeared chipped or broken...a good sign. The brew unit was coated with quite a bit of coffee grime, so a good cleaning was obviously required.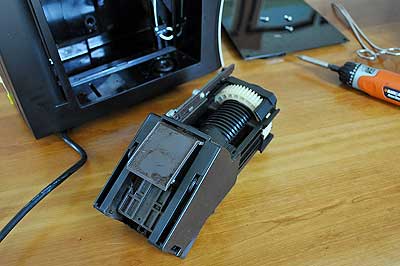 Now that the brew unit has been successfully removed, it was time to see about the next steps: disassembly and relubrication. We'll cover both in the next installment of this series. [Permalink] - Jura Z5 Brew Unit Cleaning