Yesterday we gave a photo rundown of the Jura Impressa Z5 disassembly process. Today we will go into detail about the cleaning and relubrication of the brewing unit.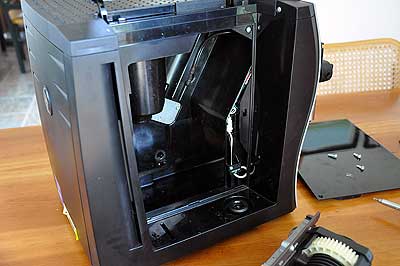 While the mechanical aspects of the cleaning procedure were not complicated, we had to make sure we did not force any of the gears. An inspection revealed that coffee grounds were caked in the crevices, but nothing much which would gum up the works to the extent that the machine would stop making coffee after one cup. This led us to conclude that we must lubricate everything once everything had been cleaned.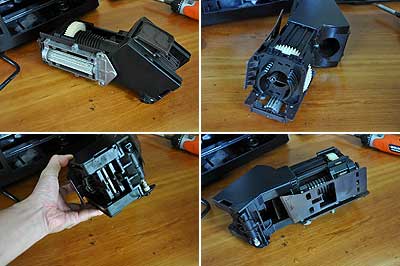 The first step was to remove the two non-black pieces (brown guard, silver vertical gear). These two items may be removed without tools. The guard just pulls off and the gear slides off.

The brewing unit has large side panels which are retained by tabs. We popped them off using a small flat screwdriver to reveal the details of the slide and other works. With the pieces removed, we flushed the unit with water to clean it.

We used compressed air to blow out the trapped water from the nooks and crannies. No further assembly was needed, but all of the obvious contact points were lubricated using a food-grade silicone spray. The gears were worked manually to make sure the lubricant was evenly distributed.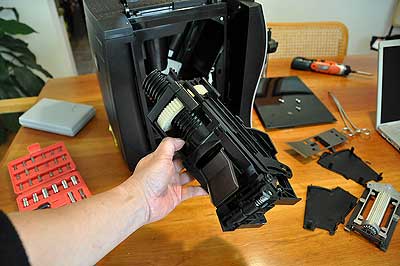 Putting the brewing unit back into the machine was a breeze. The three screws and the hose clamp were all replaced without any problems. We did call on the help of our little handy BlackFire Clamplight to illuminate the internals of the unit for placing the upper right screw :-)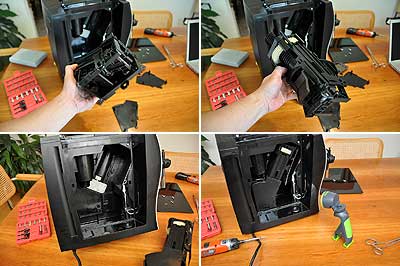 This Jura Z5 repair project was most illuminating. We don't know why Jura thought it necessary to use non-standard screws to secure the side panel. All it did was make the access problematic (read: annoying), not impossible, for DIYers. We replaced them with standard screws so that when we have to do this again in a few years, it will be a 10-minute job. [Permalink] - Jura Z5 Brew Unit Lubrication